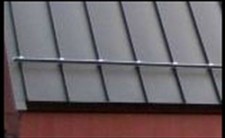 Specialized Tools Developed by Panasonic Allows for Superior Roofing Installations
Online, November 2, 2015 (Newswire.com) - Classic Metal Roofs LLC, the premiere metal roofing company of New England, has added a recent line of tools from Panasonic specifically designed to provide superior metal roof fastening for related roofing accessories, such as; solar panels and snow retention systems.
Panasonic, a known leader in the production of automotive tools for assembly lines worldwide, developed these tools in conjunction with the metal roofing industry to allow for precise and accurate torqueing of clip system set screws which can accept a variety of load bearing rails for various applications, the most common being for solar and snow. Classic Metal Roofs LLC always strives to use the best construction materials, products, and installation methods available in the marketplace to support their lifetime workmanship warranty. The importance of proper installation of the metal roofing clip systems that are designed to hold to the roof and accept the added load bearing weight of the accessories available is why they have chosen to add this specific Panasonic impact driver to their metal roofing installer's tool bag.
The Panasonic driving tool assures a proper, consistent, and specific tightening process down to inch pounds every time. This torque gun was engineered and designed for S-5 snow retention systems. The tool is calibrated remotely and automatically depending on the atmospheric conditions that the installers find themselves. This tool saves a tremendous amount of time, as the process was previously done manually, requiring the reading of a torque wrench for each and every set screw.
In New England, metal roofing is becoming a sought after product due to the protection they afford homes from high accumulations of snow. However, large amounts of snow becomes a danger if not properly planned for when it sheds itself from the metal roof, which is why the proper installation of snow rails is crucial. The clips and set screws need to hold the snow rails properly across the roof to protect the roof from damage, and protect occupants exiting or entering the home when snow is being held back overhead. Having a properly secured snow rail to metal roof starts with the fastening of the clip, and the Panasonic tool does that very well. Besides snow, solar panels are very popular now, and that investment is secured to the roof properly as well when the clips and set screws that hold solar rails are tightened to the recommend amount. Classic Metal Roofs LLC sees this tool as a major advancement in terms of added safety and efficiency in the installations of their roofs.
About Classic Metal Roofs, LLC:
Classic Metal Roofs, LLC is considered one of the premier installers of metal roofing in New England. They specialize in the installation of lifetime residential metal roofing systems for people who want energy star, environmental, sustainable, or long term solutions for their roofing needs. They believe their metal roofs are 'The Best Roofs under the Sun' and are in business to provide their customers with a worry-free roofing future. Their service area includes Massachusetts, Connecticut, Rhode Island, and Southern New Hampshire. Classic Metal Roofs, LLC works with contractors, architects, and homeowners.
Source URL: http://prweb.com/releases/2015/11/prweb13054324.htm
Share: